---
---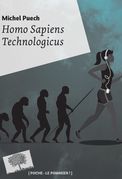 Michel Puech - site personnel
---
Adresse électronique / E-mail : michel.puech@paris-sorbonne.fr
Adresse professionnelle / professional address : Michel Puech (Maître de conférences, Philosophie), Université Paris-Sorbonne - 1, rue Victor Cousin, 75230 Paris cedex 05, France
[CV français] [English CV] - pdf.
---
A

ctualité et

A

ctivités
ARTICLE

| Black Mirror ou l'ambiguïté du pire, The Conversation, 27/06/2017
-- "Les séries sont en train de devenir une référence culturelle centrale, y compris pour les philosophes. En éthique de la technologie, la série Black Mirror (Channel 4 entre 2011 et 2014, Netflix en 2016, le miroir noir étant un écran, éteint et même brisé dans le générique), constitue plus qu'un réservoir d'exemples : un répertoire de questions non-simplistes..."
À

voir en ligne en ce moment
Currently online and worth it
The open source revolution is coming and it will conquer the 1%, by Nafeez Ahmed, The Guardian, 19 June 2014 -- rather old but stimulating article, thanks Felix for pointing it out!
The Real Threat of Artificial Intelligence by KAI-FU LEEJUNE, The New York Times, June 24, 2017 -- "They are only tools, not a competing form of intelligence. But they will reshape what work means and how wealth is created, leading to unprecedented economic inequalities and even altering the global balance of power. We are thus facing two developments that do not sit easily together: enormous wealth concentrated in relatively few hands and enormous numbers of people out of work. What is to be done?
The solution to the problem of mass unemployment, I suspect, will involve "service jobs of love." These are jobs that A.I. cannot do, that society needs and that give people a sense of purpose. Examples include accompanying an older person to visit a doctor, mentoring at an orphanage and serving as a sponsor at Alcoholics Anonymous — or, potentially soon, Virtual Reality Anonymous (for those addicted to their parallel lives in computer-generated simulations). The volunteer service jobs of today, in other words, may turn into the real jobs of the future.
Other volunteer jobs may be higher-paying and professional, such as compassionate medical service providers who serve as the "human interface" for A.I. programs that diagnose cancer. In all cases, people will be able to choose to work fewer hours than they do now."
Disrespect Intended: Mechanic-Candidate Bursts French Political Elite's Bubble, by Adam NOSSITER, The New York TImes, April 6, 2017 -- ".... a kind of folk hero, one expressing in unvarnished form what many Frenchmen and women are thinking: The political class, encased in its privileges, is demonstrably corrupt"; "In the streets, it's very striking. People are saying bravo, thanks so much. We realize it's touched a lot of people. It's what people are thinking, but these things are almost never said to politicians' faces."
Cognitive collaboration: why humans and computers think better together, Deloitte review, vol. 20, 2017 -- A remarkably smart and lucid vision on Artificial Intelligence, even if (?) it does not come from the academy.
'The Death of Expertise' Explores How Ignorance Became a Virtue, by Michiko KAKUTANI, New York Times, March 21, 2017 -- about post -truth again.
---
Ce site est partenaire du libraire en ligne amazon
.
---