---
---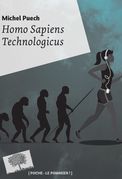 Michel Puech - site personnel
---
Adresse électronique / E-mail : michel.puech@sorbonne-universite.fr
Adresse professionnelle / professional address : Michel Puech (Maître de conférences, Philosophie), Sorbonne Université, Faculté des Lettres, 1, rue Victor Cousin, 75230 Paris cedex 05, France
[CV (français)] - pdf.
---
A

ctualité et

A

ctivités
Télécharger le dossier de presse de ce livre.

CONFÉRENCE VIDÉO

| "Valeurs, marque, entreprise ?", réalisé par People2People et Widoobiz, juillet 2018.

CONFÉRENCE VIDÉO

| "L'engagement coopératif", pour une grande coopérative agro-alimentaire, via l'agence People to people, Christian Pousset Group - lien YouTube https://youtu.be/TUIU8-8f0Nw.

TABLE-RONDE

| Crédit Agricole Protection et Sécurité (Nexecur), L'intelligence artificielle, avec Laurence Devillers et Milie Taing, 19 juin 2018.

TABLE-RONDE

| Bourse de Paris, table-ronde sur le thème de la blockchain, Sopra Steria Consulting, Finance Innovation, 21 mars 2018.
- - Pitching my views/questions:
How can we trust an algorithm? – we already do: Google Search (even its word- prediction system...), Google Maps
? trust in the infosphere
Trust is originally an inter-human relationship. It already applies to objects: we trust airplanes and a myriad of personal devices and appliances.
We particularly trust our smartphone, or better: we trust the digital objects reached through it.
We trust Google or Wikipedia, and we trust Amazon payment system, which means that we already trust algorithms, including when money is at stake, and notwithstanding what we know about murky data management and leaking back-offices. This ecosystem of digital trust progressively extends to bank services, but how far and how deep?
Is this transfer the continuing legitimacy of state and market institutions or does it require the disseminated- anonymized trust characterizing the digital sphere and currently booming with the blockchain?
trust in data management: current crisis Facebook / Cambridge Analytica.
A video will shortly be available on Sopra Steria website.
NEWSLETTER | Pour être tenu au courant des nouveautés sur ce site (et recevoir des bonus exclusifs...) : envoyez un message vide à NewsMPsite@free.fr [Détails]
À

voir en ligne en ce moment
Currently online and worth it
---
Ce site est partenaire du libraire en ligne amazon
.
---